soft n' fat
Regular price
Sale price
$64.00 USD
Unit price
per
Sale
Sold out
Unveil radiant, velvety-soft skin with our body scrubs!
Crafted with the utmost care, this luxurious scrub will transform your skin by encouraging skin regeneration and aiding in its uptake of your skincare products.
Sea Sage
Key Ingredients:
Dead Sea Salt: Renowned for its mineral-rich properties, Dead Sea Salt helps detoxify, exfoliate, and rejuvenate your skin, leaving it feeling refreshed and invigorated.

Jacobsen Sea Salt: Sourced from the pristine waters of the Pacific Northwest, Jacobsen Sea Salt gently buffs away dead skin cells, promoting a smoother, more youthful complexion.

Olive Oil: This natural moisturizer deeply nourishes and hydrates your skin, leaving it supple and glowing.

Tallow: Packed with essential fatty acids, tallow locks in moisture, providing your skin with a protective barrier against environmental stressors.

Blue-Green Algae Spirulina: Rich in antioxidants and vitamins, spirulina helps combat free radicals while supporting skin cell regeneration for a fresher appearance.

Oregon Blue Clay: Known for its clarifying properties, this clay gently purifies your skin, leaving it feeling deeply cleansed and revitalized.

Freshwater Pearl: A luxurious touch, freshwater pearl powder adds a touch of elegance and a radiant glow to your skin.

Oyster Shell: 

With natural abrasiveness, finely ground oyster shell removes dead skin cells and impurities for improved texture. Rich in minerals, they nourish the skin while enhancing circulation and promoting detoxification.
Sweet Bloom
Key Ingredients:
Dead Sea Salt: This mineral-rich salt gently sloughs away dead skin cells, leaving your skin feeling refreshed and revitalized.

Pacific Sea Salt: Sourced from the pristine waters of the Pacific, this salt provides a delicate exfoliation, perfect for sensitive skin.

Caprylic-Capric Triglycerides: These lightweight, skin-conditioning agents ensure a soft and smooth texture, promoting a luxurious application.

Tallow & Lard: These natural, skin-loving ingredients lock in moisture, providing a protective barrier against the elements.

Raw Honey: Nature's liquid gold, raw honey, hydrates and soothes, leaving your skin feeling supple and glowing.

Hibiscus Extract: Rich in antioxidants, hibiscus extract helps combat signs of aging while promoting a youthful, radiant complexion.

Flax Glycerine: This hydrating ingredient supports skin health, maintaining your skin's moisture balance.

Rose & Chamomile: These floral extracts deliver a harmonious blend of relaxation and skin nourishment.

French Rose Clay: Known for its gentle exfoliation and purification, French rose clay helps clarify your skin's texture, revealing a brighter complexion.
How to Use:
In the shower or bath, wet your skin thoroughly.
Scoop out a generous amount of Sea Sage and gently massage it onto your skin using circular motions.
Concentrate on rough areas like elbows, knees, and heels.
Rinse off with warm water, and pat dry.
Follow up with your favorite moisturizer to lock in the hydration.
Sea Sage:: moderate exfoliation
Ingredients: dead sea salt, jacobsen sea salt, olive oil, tallow, blue green algae spirulina, oregon blue clay, fresh water pearl
Sweet Bloom:: gentle exfoliation

dead sea salt, pacific sea salt, caprylic-capric triglycerides, tallow, lard, raw honey, hibiscus extract, flax glycerine, rose, chamomile, french rose clay
Share
Use & Care information

Lather in your hands with water. Use a washcloth for gentle exfoliation.
Ingredients

grassfed&finished tallow, raw milk, mango butter, apricot kernel oil, camellia oil, castor oil, calendula officinallis, matricaria chamomilla, lye (sodium hydroxide)
View full details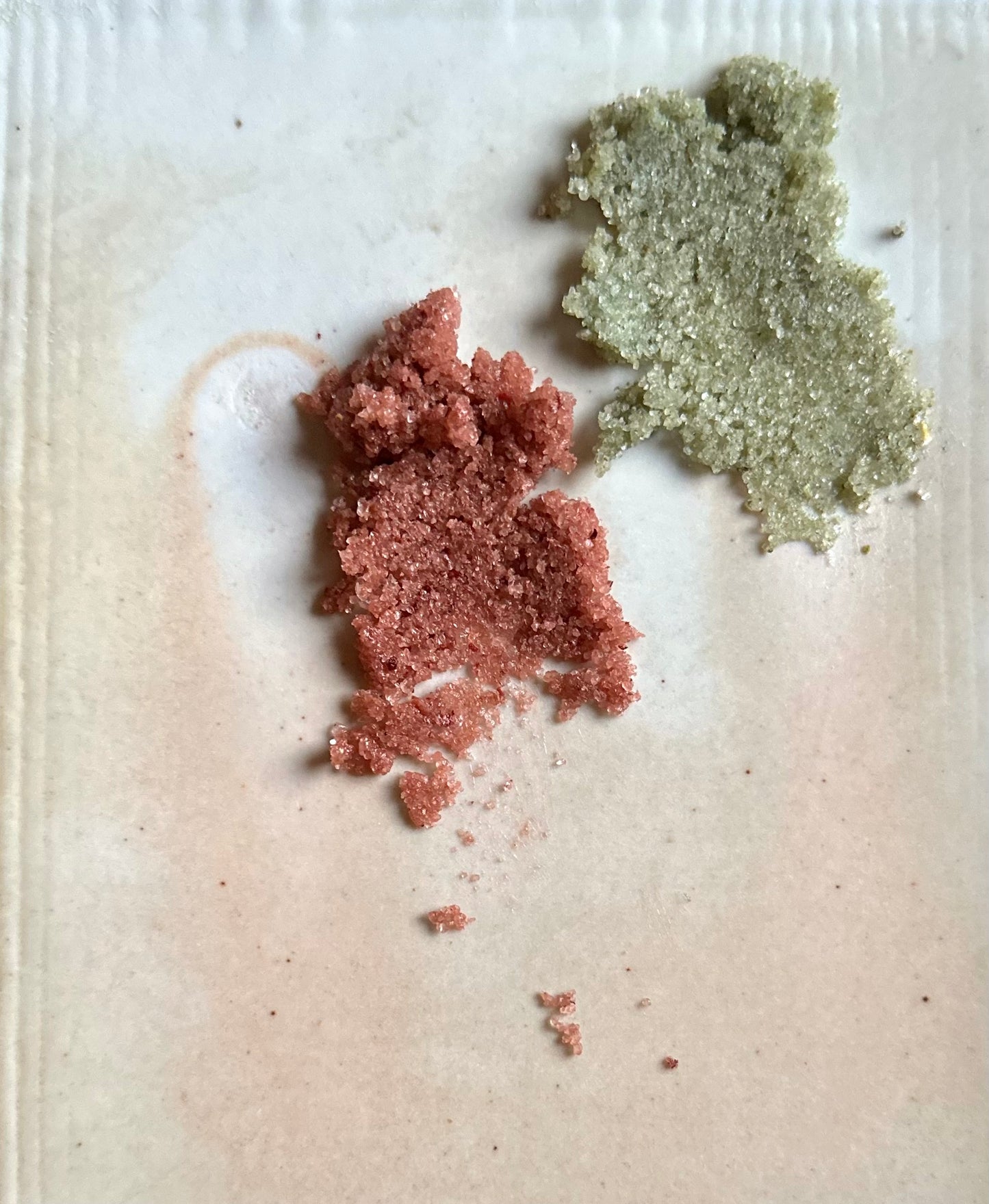 It's not just nourished skin we're after.
COMING SOON::
Explore the heart of the "why" behind our products at Soft n' Fat, meet the farmers and ranchers that we trust to provide our high quality ingredients, and hear how their methods are healing our soils.
explore blog