Soft n' Fat
Regular price
Sale price
$34.00 USD
Unit price
per
Sale
Sold out
Infused with organically grown whole flower calendula and chamomile, our tallow deeply saturates and nourishes the skin, leaving it supple and soft.

Use our tallow moisturizer anywhere you have skin.
Yes, even your face.
The molecular structure of tallow closely resembles the sebum(oil/fat) of our human skin, and our skin readily accepts it deep into our tissues.

Your skin will thank you.
Share
Use & Care information

How to use-

A little goes a long way.




Our whipped tallow is truly an all over balm.

It's non-comedogenic nature makes it great for the face!




For enhanced hydration and penetration, apply to damp skin.




Shelf life-

Feed your skin.

We believe that if you want your food fresh, you should have your skincare fresh too.

For this reason we use little to no preservatives in our products.




Our calendula chamomile tallow does not have any preservative, but has a shelf life of up to a year on the counter, two years in the refrigerator, and nearly infinite in the freezer.




To extend the life of your product:

Keep jar in cool place out of direct sunlight.




Be sure to keep water out of jar.

Water=life. And you want to keep as much life out of your jar as possible.




Wash hands or use a spoon or spatula to scoop tallow out of container to extend shelf life. 

If your product melts, simply place in refrigerator. Cooling quickly will help your tallow maintain its silky smooth texture. Cooling very slowly can cause the fat to crystallize; if this happens simply warm until just melted, then put in fridge.
Ingredients

grassfed&finished tallow, calendula officinallis, matricaria chamomilla
View full details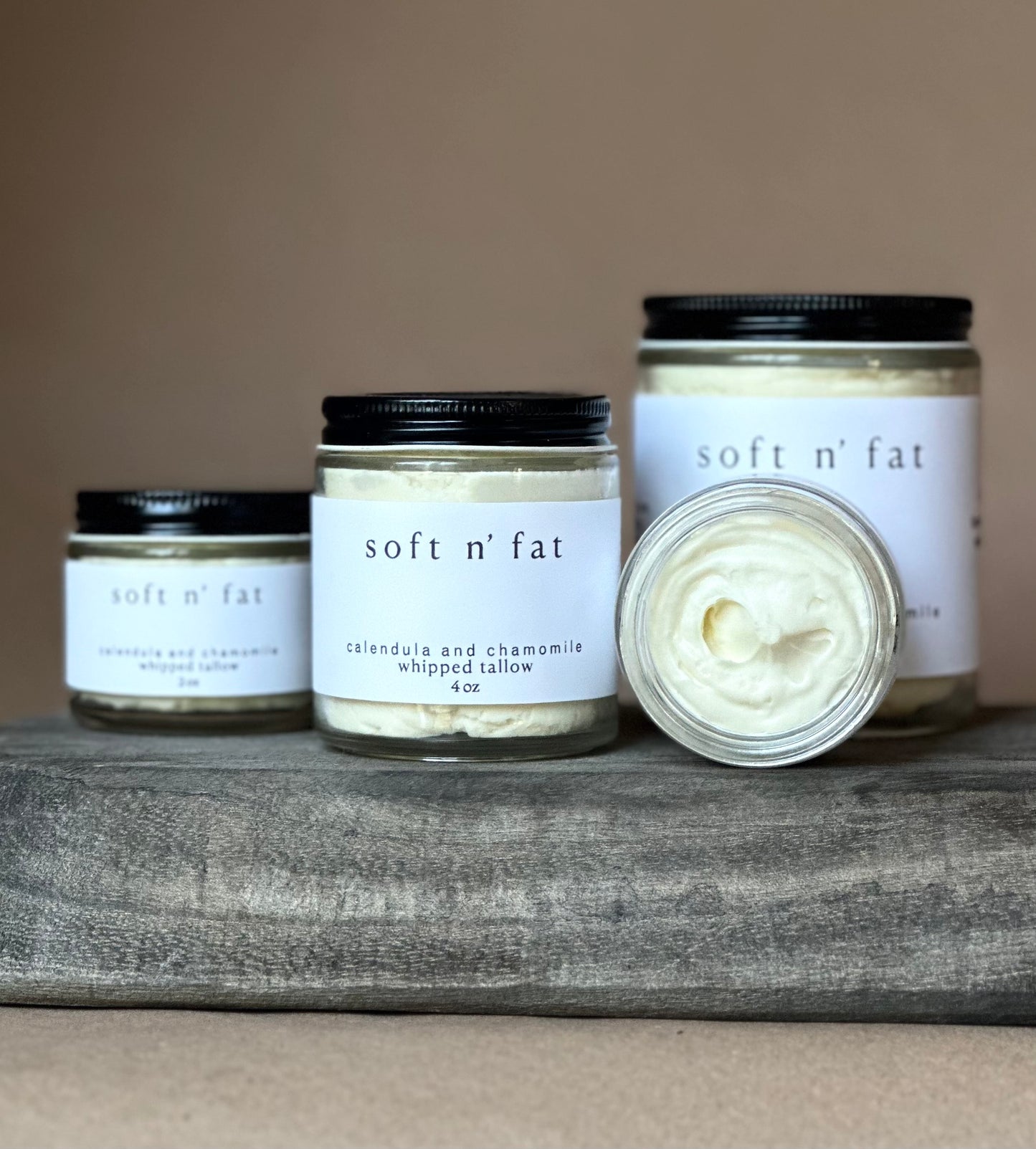 Love this product!
I love this whipped tallow! I've used other brands and none smell quite as good as this one or go on as smoothly. I've used it on my belly during pregnancy and it felt so nice and helped soothe any itchiness.
My favorite "go to" for everything!
The irresistible whipped tallow quickly became my favorite product after feeling like my skin had been completely nourished and then for its all-purpose use. From diaper rashes to eczema outbreaks, this moisturizer seriously packs a punch without the toxic chemicals & additives. I feel so comforted knowing that what I am putting on my family's skin is natural & safe.
love !
I purchased the magnesium tallow balm which is so perfect before bed and the Calendula Chamomile whipped tallow which I use during the day and both are so nourishing !
ESSENTIAL
This tallow has become one of my main priorities in life over the past year!!! There's nothing like it's deep nourishing tender loving moisturizing care. Thank you for blessing us with this goodness.
!!!
I bought the Calendula Chamomile Whipped Tallow for my partner! She loves it! Thank you!
It's not just nourished skin we're after.
COMING SOON::
Explore the heart of the "why" behind our products at Soft n' Fat, meet the farmers and ranchers that we trust to provide our high quality ingredients, and hear how their methods are healing our soils.
explore blog